EFI 4x™ BBC
Whether you are updating your early BBC electronic fuel injection system to use a newer ECU or adding electronic fuel injection to your BBC engine for the first time, an EFI 4x BBC conversion will equip your BBC engine with the crank and cam signal components necessary to be controlled by 1996-newer GM ECUs.
EFI Connection's 4x BBC systems are designed to output the 4x crank and 1x cam signal of a GM Vortec 7.4L V8 engine. This means that the popular GM# 12200411 PCM can be used with single coil and distributor ignition for 4x equipped BBC engines!
The differences in the variety of available BBC engines required us to design and manufacture many different 4x BBC conversion kits. Get started by using the conversion matrix below to choose the appropriate 4x BBC conversion for your engine.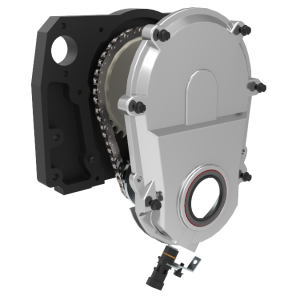 PART #
MARK IV
BBC ENGINE
GEN V
BBC ENGINE
GEN VI
BBC ENGINE
SINGLE ROW
TIMING SET
HD SINGLE ROW
TIMING SET
STANDARD
DECK ONLY
WITH 4.000"
24X RELUCTOR
120-00217
NOT
SUPPORTED
NOT
SUPPORTED
X
X
 
X
X
120-00218
X
 
X
X
X